Pass your Pharmacy exams
Online revision courses created for Trainee Pharmacists & GPhC exam
For MPharm/Pharmacy Students, Pharmacists  &  Healthcare Professionals
Patient-Centred Training
with colourful bite-size video tutorials
Learning theory is pointless if you can't put it into practice. Apply your knowledge with evidence-based study techniques like active recall and patient case studies.
Prepare for your GPhC exam with confidence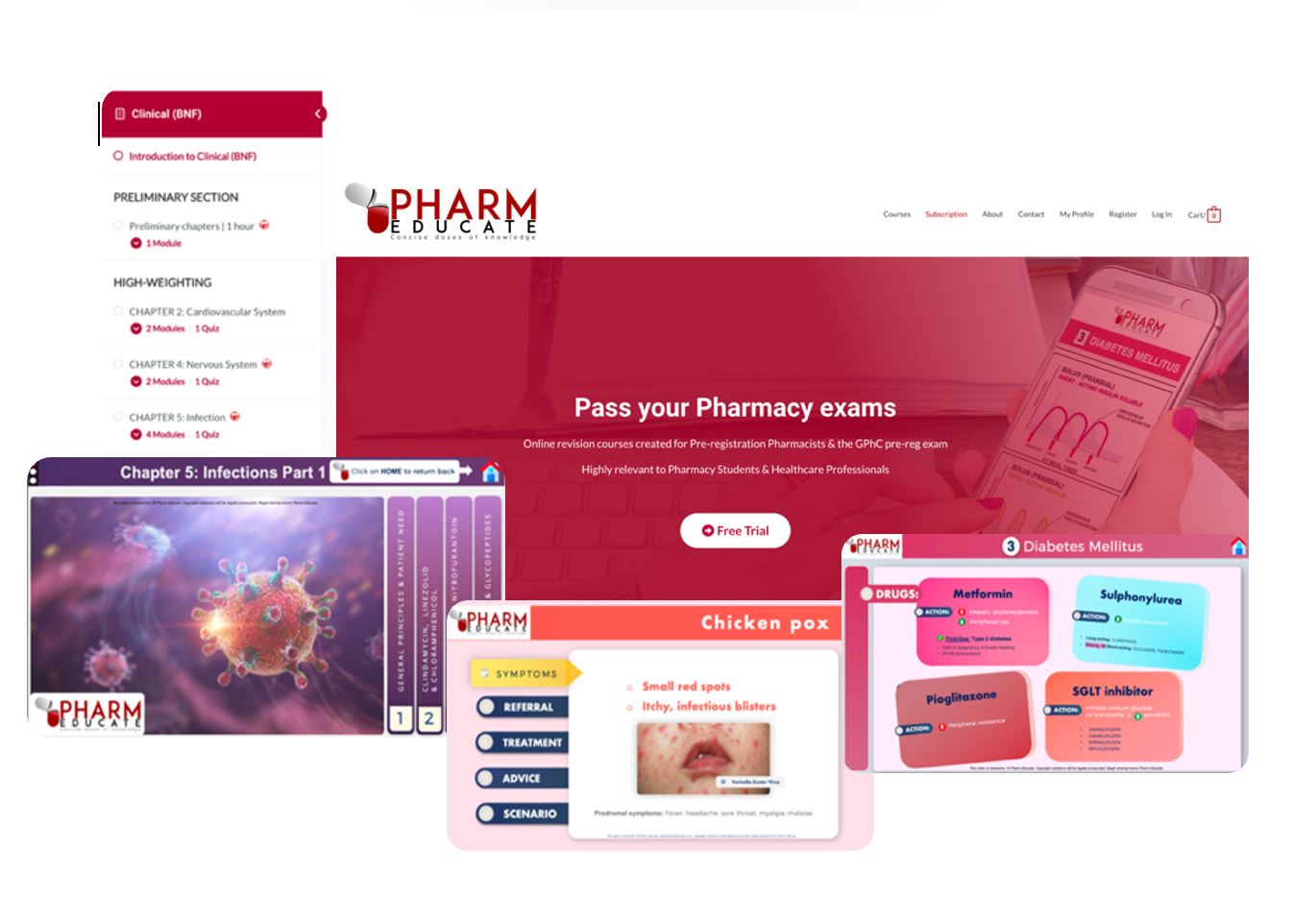 Like uni lectures but with a twist. Colourful.
 Bite-size colourful videos that double up as notes.
All the latest information in one place. Concise.
Overwhelmed by the vast amount of resources?  We collate, review and streamline everything you need to know.                No information overload.
Learn smart, not hard. 97% Pass rate.
Learn from anywhere on demand 24/7
These aren't cookie-cutter notes.                                                          This is program with videos, audio, graphics and much more.
Concise doses of knowledge.  Work smart, not hard. Intensive courses that aren't actually intense.
We are qualified pharmacists with years of experience in the community, hospital and pharmaceutical industry, and most importantly in education and training.  
Online Mock GPhC Registration Assessment
Enjoy 20% off with any of our subscription plans.
Complex GPhC style exam questions designed to challenge and test your knowledge.
With clear answers and rationale.

Enjoy Plenty of Extra Features
What Our Students Have to Say
The most useful resource out there for me especially for exam preparation. You can revise from the comfort of your home. Information is concise, not excessive, and to-the-point. I really highly recommend to anyone struggling with pre-reg exam revision.
A big thank you, your website has been my main revision tool leading up to the exam and I got 95% on my clinical paper (and passed) and I feel it is thanks to you that I got such a high mark.
Your resources and amazing method of teaching has enabled me to pass my exam on the first attempt.
This is an engaging learning format and takes me back to days at university.
Y
ou can study at your own pace.
It's comprehensive, affordable and more than worth it.
Full Access to All Courses.
Crash Courses. Cover everything in under 24 hours.
Enjoy hours of premium video tutorials & lectures, 60+ lessons and 600+ questions.
Subscription plans to suit your needs at affordable prices.
Join Thousands of Happy Students Today!
All the information you need in one platform.
Maximise your limited study time.